Rear Commuter bike light group test.
We gathered rear commuter lights from Knog, Serfas and Cateye. Charged them up and after some runtime testing, to see if they hit the predicted run times, we then charged them up again and hit the road. Which mainly involved me playing camera man and hanging out the boot of a car that repeatedly went around roundabouts.


Cateye Rapid X2 80
Price £46.99
Hi Output / Runtime: 80Lumen / 1 hour
Rechargeable via micro USB
Like: Side visibility
Dislike mounting
Let's get start with the Cateye Rapid X2 80. The rapid X2 took the longest to die in our runtime test slowly dimming as it ran out of power, so it should be a nice companion on long dark rides. The X2 also has good side visibility which is essential if you want to be seen at junction and side on. Our only gripe is that it's a real nightmare snapping the rubber O-ring in place to mount it. It's a simple procedure made difficult by O-rings too small for modern wide seat posts.


Knog MOB The Face
Price £67.99 Pair
Front steady Low Output / Runtime: 80Lumen / 5.1 hour
Rear steady Low Output / Runtime: 80Lumen / 6 hourRechargeable via
Built in USBLike: Easy mounting and charging
Dislike: Lack of side visibility
Next up we have the Knog Mob The face, Silly name great light. It's the easiest light I've ever mounted to a bike EVER! The supple silicone band stretches easily around your seat post or handle bar with a nice little pull tab to aid the process. We also really apricated the built-in USB plug which meant we spent last time scrabbling to find a spare micro USB cable. The tiny compact units even have reasonable out puts and runtimes for their size. The only thing letting the side down a little was the lack of side visibility compared to the other lights on test.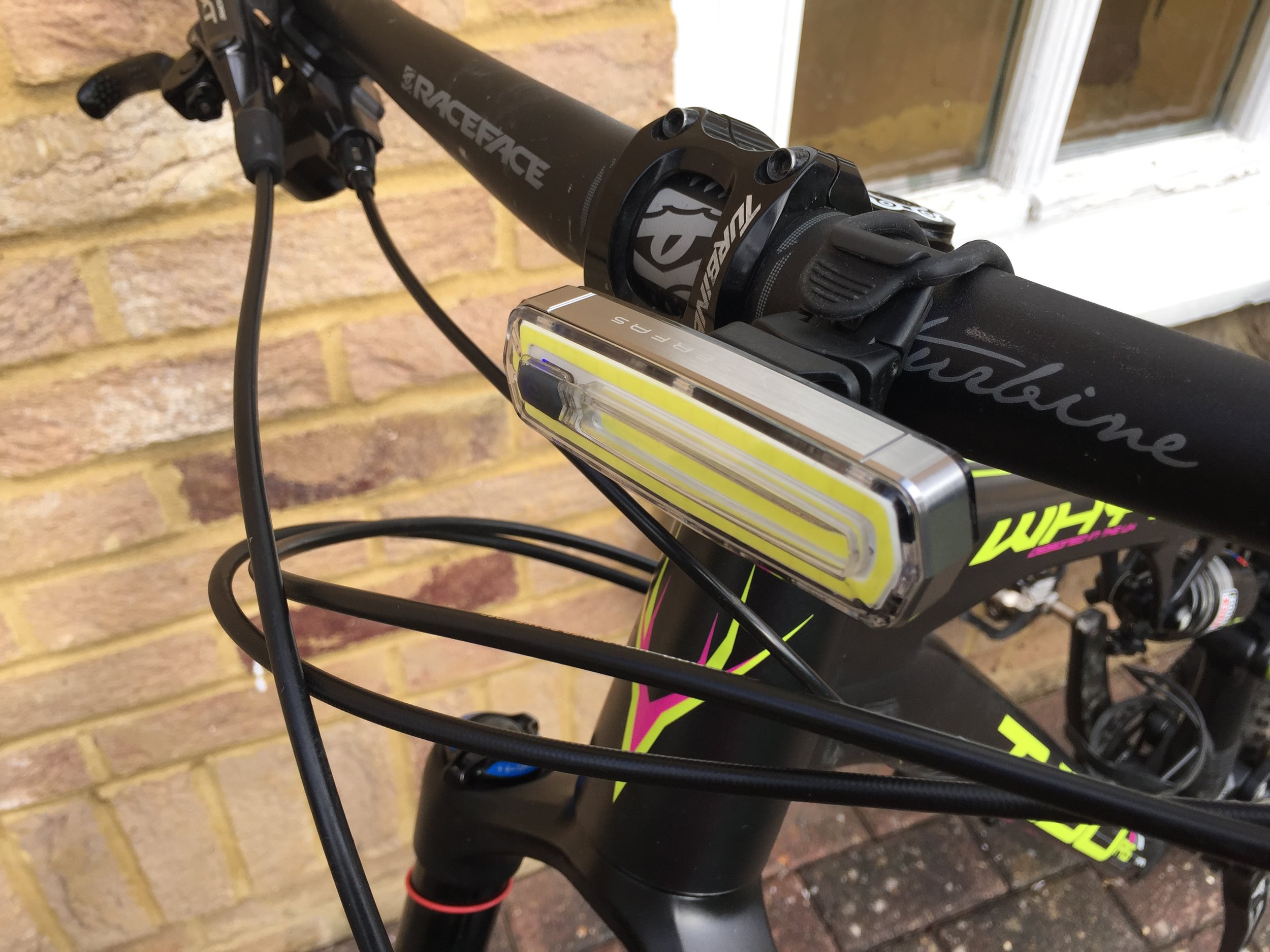 Serfas Orion
Price £51.99
Hi-Output / Runtime: 80Lumen / 1 hour
Rechargeable via micro USB
Like: All of it
Dislike: Apart from its audible mode switching beep
The Serfas Orion Blew us away. Great output and side visibility meant you could really see this light from nearly all angles. Add to that a bunch of eye-catching flashing modes and a nice sold and easy to use mounting system then you have a winner. That's why it's won our dialled in and bargain buy awards. The only thing we disliked was the horrendously loud audible beep it makes whilst switching modes. It also beeps to let you know it's finished charging, which made me jump on several occasions. Even with this annoying beep its still a worthy winner and comes highly recommended

If you would like to see these lights in more detail we have a playlist of all of our winter 2016/17 bike light videos